Congratulations and Thank You to everyone who have purchased their new friends from us! These horses are so very missed!
| | |
| --- | --- |
| | Bow - AQHA palomino colt. Bow is very well put together and shines a solid rich gold. This guy is the most easy going colt on the farm and is a family member waiting to happen. If you are looking for a willing, easy to train guy your kids can grow with, this is him. He'll show, trail, speed event, or parade. Already use to the flutter of flags and being ponied down busy streets. Skipper W and Sugar Bars bred. Chances are if you buy him, you'll never part with him. Sold. |
| | Speedy - Minimal white palomino overo APHA colt. This boy is a real looker with a great body, nice hip, head and thin arched neck. Between his sire's lines (First Class Chippewa) and his dam's lines of Commission Man, Sugar Bars and Adobe Shack this colt should be easy to train and should excel in just about any disipline. He's a real people pleaser and a must see! Sold |
| | Dottie - Yearling palomino overo APHA filly. This wide chested filly is full of snap! She'll be great on cows or doing dry work. Her Jessie James, Sugar Bar, Snipper Reed lines shine through with her quick thinking and quick response! She's full of ability! She's also level headed and easy to work with. We owned her grandmother for 15 years and all her foals have been extremely easy to train. Dottie is easy to pony and longe. She makes working with horses rewarding and a pleasure! These pictures do her no justice. Come see her and you'll see what a gorgeous one she really is! Sire First Class Chippewa AQHA. Sold. |
| | Crema - Stunningly gorgeous dark glossy palomino 2 year old. This mare is going to be huge at around 15.3. She is world class and is an incredible plus 10 mover! Her lines include Approval, Tardee Impressive, Easter Sunrise, Sugar Bars, Boston Mac, Skippa Ward amoung other greats. If you are a halter breeder she would do wonders crossing to any halter stallion. To top if off she can get down and move off her rear end well. She'd be great with cows! She's a quick learner and willing to please. This quality of a mare with her rich golden palomino color is a hard find! Sold |
| | Mocha - APHA palomino gelding with one blue eye. If you are looking for a working cow, ranch, mountain, or trail horse, this is Mocha. Spending the last 4 months pastured in mountainous, rocky terrain, he is now nicknamed 'The Mountain Goat' for his sure footedness and confidence. Very friendly, courageous, willing, and seems to be afraid of nothing. Training started. Sold |
Please use sold horses for reference indicated in the sales list above.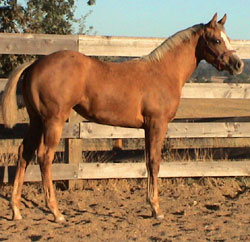 &nbsp &nbsp

Click here to see more pictures!

Dolce - Full sister to Egypt. This picture only begins to show this filly's beauty! Her summer color was a chocolate brass color, somthing we haven't seen on our farm yet. Dolce is just outstanding in conformation, color, and quality! A true sweetheart that tries so hard to please! Personalities like this will just melt your heart away! Her mother, Dottie, can be found on the Broodmare page. SOLD! To see her page, click here.

Sold! Annie - If you love half Arabs, you'll love Annie! She carries all the Arab attributes of her well bred 15.1 hand Arabian mom and was given the gift of gold from her sire, First Class Chippewa. Her movement is stunning to watch! She floats when she moves with an astounding, reaching, extended trot! Should mature to 15.1. Potential for shows, endurance or trail. Nice level minded filly that loves to be pampered over! SOLD

| | |
| --- | --- |
| | |
SOLDFrappuccino - Frap is one gorgeous palomino filly and is developing nicely! In such a short time, these pics are already outdated! New pictures coming soon! Her half-sister, Crema (found on sold page), is a rich gold palomino at 3 years old and we suspect Frap will color the same. She already sports a large hip, bulging shoulder, great muscling, and plenty of bone. She's showing all the signs of growing into a large solid golden horse. Her dam and sister are both extremely good movers indicating she'll be a plus 10 mover as well. Her lines include Easter Sunrise, Sugar Bars, Boston Mac, Skippa Ward amoung other greats. This filly would be great for halter, show, or having fun as a trail horse! Very quality filly! To see another picture of this filly, click on her mother's page (Candy) below. UPDATE - she has shed her foal coat and will definitely be a dark gold - gorgeous! SOLD

| | |
| --- | --- |
| | |
SOLDClick on her pictures to see more! Candy is an incredible 11 yr old APHA frame overo strawberry roan. She is built like a tank!!! And has incredible 10+ movement. She's been confirmed in foal by our cremello stallion, First Class Chippewa, for a 2006 May foal - guaranteed to be a palomino overo or palomino solid! Candy has had two foals, Crema found on the sold page and Frap listed above. Both are chocolate palominos and very quality. I have ridden her easily over a thousand miles including rides in Yosemite National Park (where she enthusiastically jumped logs and stood at the bottom of the waterfall) to the ocean at Montana De Oro. Sold as a broodmare only. Her pictures do her no justice! 15.1-2 hands SOLD

| | |
| --- | --- |
| | |
SOLDPearl - Solid rich gold palomino APHA filly. This girl is a sweet one! She's loves people and is extremely comfortable no matter what her surroundings are! Like her full brother, Speedy (found on 'SOLD HORSES' page), she's level headed and easy going. To top this off, she's well put together with a large hip and chest, and pretty face! She'll be a horse that can face any challenge in any circumstance. Between her sire's lines (First Class Chippewa) and dam's lines of Commission Man, Sugar Bars and Adobe Shack this filly should be easy to train and should excel in just about any disipline. A best friend in the waiting! SOLD

| | |
| --- | --- |
| | |
SOLDStretch - APHA BS colt. This colt is NOT by Chippewa. Stretch's sire is 'Im Puttinon a Tux', a black overo mulitple futurity APHA halter winner. Stretch is out of a Sugar Bar / King Ranch bred mare. He's a rare glossy dark mahogany red that doesn't fade out over the season. Great personality with lots of potential in any direction. Would make a great reiner, cow or trail horse. A very fancy horse! Easy going and longing smoothly! To see a picture of his sire click on Stretch's picture. Ground training started. SOLD